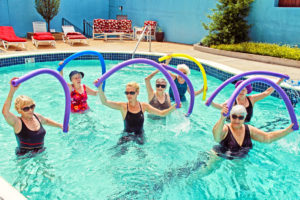 As we age our body is not able to do the strenuous exercises that are required to keep us in physical fitness.  When you once were able to go for a morning jog or a bike ride quite easily, you may not be able to manage now or recover easily from anymore.  Older adults need to find low impact high quality exercise that can keep their body moving and in good health without the strain of higher impact exercises.  This is why many seniors are turning to aqua aerobics.
Aqua aerobics classes are offered at many gyms and YMCAs and they are a great way to stay physically fit without putting undue stress on your muscles and joints.  If you're considering starting an aqua aerobics class you will want to ensure that you are a good swimmer and that you check with your medical provider first to ensure that you have the necessary mobility to participate in one of these classes.  If you are cleared to participate you will see some of the following benefits;
Improved balance and coordination
Greater cardiovascular strength
Weight loss
These three benefits to aqua aerobics will be invaluable in your day to day life.  Take for instance improving your balance and coordination, this can not only be a physical benefits but it can also impact your emotional well-being as you will find it easier to move throughout your home and be surer on your feet.
While many have found the benefits of aqua aerobics, if you have not yet, give it a try.  This type of exercise can prove to be just the right level of strain on your body to keep you living a healthy and active lifestyle without injuring yourself in the long term.