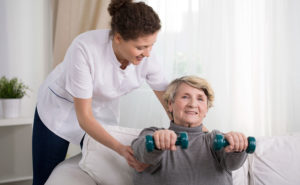 When you're thinking about how you might live your life in your older years, you might be considering the latest trend of aging in place. Aging in place allows you to stay in your home and get the care you need without having to venture out to a myriad of appointments. Staying in your home can provide a variety of benefits to you as you age. We've covered a few of them here and are now going to cover three more reasons that hiring a home health care agency in Connecticut can help you stay in your home, even as medical issues pop up.
If aging in place is something you're thinking about for yourself or for a loved one it is important to know the benefits of hiring a home health aide who can give you the care attention you need. Here are three MORE reasons you should hire a home health agency to take care of you in your home.
Provide A Break: When you age in place, often your family members will take on the role of caretaker. Your caretakers need a break too and a home health aide can provide that break. Not only will this allow for your caretaker to get a break, it will also allow you to interact with someone new which will be stimulating for your mind.
Reduces Hospital Visits: While this is of course a case by case benefit, in many cases having a medical provider come to you can help you reduce the need to visit the hospital. This will save you money and hassle, but will also give you peace of mind that you won't be running off to the hospital every day.
Personalized care: When you visit a medical facility the medical providers are working with multiple patients all at once. When they are in your home they are entirely focused on your needs and will personalize your medical care accordingly. This will allow for a clearer path forward in your care.
The thought of aging in place can be equal parts enticing and nerve racking. Being able to stay in your home as you age is one thing that a majority of Americans say they hope to do. A home health care agency can help you do that and give you the peace of mind that you so need as you get older.