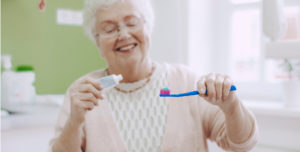 As you get older and start to think about the possibility of aging in place, you'll need to consider whether you are healthy enough to do this. While there are no hard and fast tests that can tell you whether or not you can handle it, there are some common sense attributes that you should consider before making the final decision.
You should take the following list with you when you consult with your family and your medical provider as you discuss the possibility that you would make this decision as you age.
Sharp thinking skills: Is your mental acuity sharp enough to maintain a safe and healthy lifestyle at home?
Strength: As part of living independently there will be things that you will need to be able to do for yourself like lift items into the refrigerator after a trip to the grocery store.
Flexibility: You won't need to be able to do a split certainly, but small things like brushing your teeth and bathing require some flexibility.
There are other things to consider before you begin aging in place, which you can review here. The link also has some solutions for you if you believe you are lacking in any of these areas.
While it is not necessary to be the perfect picture of health to live independently there are some physical attributes that you will need to take into account when making your final decision. If you believe you can address them all, then you may be a good candidate for aging in place.