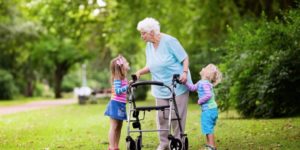 When we think of taking care of our loved ones who are aging in place we often think of the adult roles and responsibilities, but there is plenty of opportunity for children to be involved as well. A grandparent, aunt, or uncle, can be a very special person in a child's life and allowing young people to participate in the care of their loved one can be a wonderful bonding and learning experience. Of course children should be involved at developmentally appropriate levels and should not be required (at least at a young age) to perform any medical tasks.
As you begin to think about how to best involve your child with the care of a loved one, keep in mind that this care can be a very emotional experience for the child and they may have questions that can be difficult to answer. If you are prepared for these questions with answers that will satisfy the curiosity of the child while also maintaining a positive environment for him/her to help care for your loved one, then here are a few ways they might be able to help.
1.) Companionship: This is the most likely and easiest way that a child can help in a loved ones care. Whether a child wishes to sit and talk with their loved one, watch a movie, play a game, or read, companionship is a much needed function that often gets overlooked when caring for a loved one.
2.) Artwork: Kids of all ages love to create and what better way to brighten a loved ones room then with artwork from kids. Ask your kids to create seasonally themed artwork that will help put a smile on their loved one's face.
3.) Chores: Simple tasks like emptying the trash or doing a load of laundry can go a long way in lightening your load as you care for your loved one and will provide some much needed assurance to him/her that everything will be taken care of. While this isn't the most emotionally charged of the ways to get a child involved, it will certainly be one of the more practical ways.
If you have kids (young or old) who want to participate in the care of an ailing loved one, you should let them. As it is developmentally appropriate for kids to be a support or a distraction to their loved one and will give them additional memories to carry through their own lives.