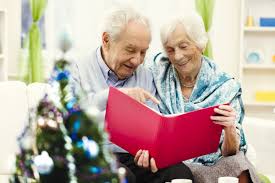 We are now full swing into the holiday season. Below are five of the most common things that concern aging in place seniors and their loved ones.
Safety. Whether living alone or with the assistance of a caregiver, winter weather can be treacherous. It's important to ensure that walkways and driveways are cleared of snow and ice before venturing out. It is also wise to keep a supply of candles, matches, food, extra blankets and medications at the ready. If the older adult is living with dementia, consider having someone stay with them during snow storms.  Arrange for a groceries to be delivered before the storm, either online or by a relative or friend. Only use flame-resistant decorations and keep power cords away from heavily trafficked areas. Do not leave lights unattended and always assist the older adult while they are decorating.

Finances. We all cope with the financial pressures that our society imposes on us as we approach the holiday season. This can certainly deplete the funds for someone living on a budget.

Consider going to another relative's house rather than cooking a meal yourself.  If this is not an option, consider ordering a meal from somewhere like Boston Market.
Minimize holiday decorations by purchasing a table top tree.  This would be more manageable and easier to dispose.  Use holiday decorations that you already own.
Shop online for the best holiday deals to save on gifts for family members.  Assist an older adult with this process!

Isolation. Many older adults suffer from isolation and depression during the holiday season. It is important to keep them active and engaged.
Health and nutrition. It is always important to manage a sensible diet, but especially over the holiday season with the rich foods and drinks, that could potentially be detrimental to anyone with a risk of diabetes, heart disease or worse. Encourage those at risk to limit consumption, by taking smaller portions and balancing their diet, or avoid holiday treats altogether.
Transportation. Whether it be local or long-distance travel, transportation becomes a larger issue around the holidays. Either it's the inaccessibility of running errands or it's waiting in long lines, navigating airports and security, claiming baggage and meeting up with relatives.  Don't subject an older adult to these inconveniences.   Instead, celebrate your holidays by traveling to them.