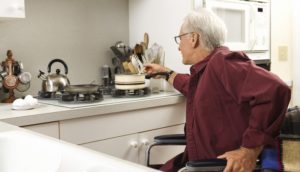 In a previous blog post we defined the term aging in place, which is a plan that many folks of all ages are starting to implement. Today we want to talk about some modifications you can make to your home now that will make this option viable for you or your loved one.
Making these five home modifications now can help save a lot of pain and difficulty as you begin to age.
Additional lighting
Add railings/grab bars in places like showers and short steps
Install a flexible shower head
Ramps for accessibility in case you need a wheelchair
Move your master bedroom to the first floor
Accessibility and ease of maneuvering throughout your home may become critically important if you've made the choice to age in place. While home health care agencies in CT can help you with your medical needs, being able to move throughout your home with ease is one of the most important things you can set yourself up with now to make your golden years comfortable.