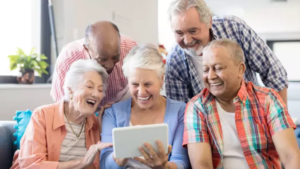 Aging in place is a growing trend among those who want to remain in the homes that they currently live in as they age. More and more people are opting for the comfort of home then that of a long-term care facility. Home health care agencies in Connecticut are helping those who wish to remain in their homes as they age with services that they otherwise would not have been able to get without going to a medical care facility.
A recent study by Fresenius Medical Care found some interesting statistics that may be a barrier to those aging in place. First the study looked at how many people have a desire to actually live in their home as they age. A staggering 65% of those surveyed said that their goal is to live in their home as they get older. This represents a large increase in the last decade.
With that being said there are some statistics that represent social determinants of health (SDOH) that may be considered a hurdle in those wanting to age in place from being able to accomplish that goal. The following statistics may present a barrier to some:
Nearly 66% reported having low technology literacy
64% reported not having the financial literacy necessary to save the funds needed to age in place or maintain that lifestyle
A full 60% of those surveyed said they did not believe themselves to be physically fit enough to age in place
Over half believe themselves to not have the community connections necessary to maintain a healthy lifestyle
Exactly half of the respondents were facing some form of food insecurities
These statistics do not represent insurmountable issues for all surveyed, but they are certainly hurdles that those looking to age in place must overcome before they take the leap. If you or a loved one is moving in that direction, the sooner you can start to talk about some of these things the better.