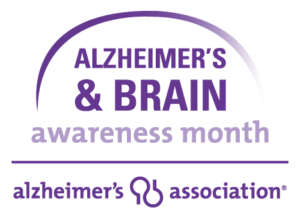 June is National Alzheimer's and Brain Awareness Month and as a Connecticut Home Health Care Agency we see a lot of misinformation around this disease and it's impact on patients.
June is the perfect month to wear purple (to raise awareness) and to learn the facts.  Here are five facts that are important to know if you or a loved one have been diagnosed.
1.) Alzheimer IS a form of dementia: nearly 80 percent of all dementia cases are actually alzheimer cases.  Our dementia management services can help.
2.) Alzheimer is not an "old person" disease: there are 200,000 cases annually of patients with early on-set diagnosis who are under the age of 65.
3.) Alzheimer gets worse with time: known as a progressive disease, the symptoms may be mild at first and get progressively worse with time.
4.) There is no cure for Alzheimer: there are treatments that can slow down the progression of the disease, but they will not cure it.
5.) Difficulty remembering newly learned information is the first sign: if you're finding yourself or a loved one can't remember new information this is a warning sign that Alzheimer might be presenting.
If you or a loved one is battling this disease and would benefit from home health care in CT, please contact our office and one of our medical professionals will be out to see you.