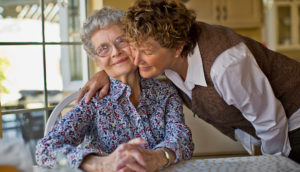 Hospitals are among our most important institutions. The medical professionals who take incredible care of our loved ones at hospitals are second to none and the miracle of medicine is something that can't be understated. They are not however, conducive to long stays and comfort. While modern hospitals make every effort to provide care AND comfort, it's often difficult for patience to achieve true comfort especially during a long hospital stay.
It is for this reason that many are choosing the concept of aging in place which allows folks who are facing ailments to live out their final years at home where they are most comfortable. While there are some additional things to think about when considering whether you or a loved one will be aging in place, comfort is generally at the top of the list. What makes home more appealing then a hospital room? Here are a few reasons you might consider the comfort of your own home when deciding on your care as you get older.
1.) Personal artifacts: At home you are surrounded by memories and photos that remind you of good times. These positive vibes are not only good for your health, they are also good for your comfort.
2.) People: In your own home there is no such thing as visiting hours so your loved ones can come and go. They will also be more comfortable in familiar surroundings.
3.) Food: Let this one not go understated, the comforts of home include home cooking and while you may not be in a position to cook for yourself, allowing loved ones to cook meals and prepare them in your kitchen will go a long way.
4.) Privacy: While hospitals do their best to maintain patient privacy, it can often be difficult when patients are sharing rooms or passing in the hall. In your home, your privacy is your own.
5.) Media: Most hospital rooms are now outfitted with TVs, but do they have your favorite TV show? Do they have your favorite music? Are you surrounded by the books you love? You may be spending significant time on bed rest, these are important must-haves to maintain your comfort.
The good news in all of this is that with the right home health care agency in Connecticut you don't have to choose between good medical care and the comforts of home, you can have both.