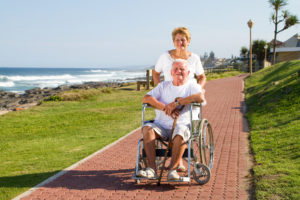 Summer unofficially kicks off this weekend. It's filled with food, fun and sometimes traveling to visit family or friends. If your elderly loved one is visiting or traveling, you want to be certain they make it to their destination safe and sound. The following are useful tips for keeping your loved one safe and on schedule during this travel season.
Pack Responsibly. If your loved one has limitations on how much weight they can carry, try to pack clothing in a rolling bag instead of a shoulder bag. Reducing the physical strain from their body will reduce risk for a fall or injury. If your loved one will be mobile on their trip, pack appropriate shoes to keep them steady while moving around.
Leave Early. Whether standing in line at airport security or sitting in traffic, the wait can be stressful. In order to make it to your destination on time, remind your loved one to leave as early as possible. If the weather may present an obstacle, plan out extra time to avoid rushing and stressing.
Manage the Meds. It is important to take all required medications at home and while traveling. Write down instructions for: dosage, frequency and times. All medications and emergency contacts should be packed in a carry-on bag that will travel with your loved one and remain accessible.
Prepare the Travel Arrangements. If your loved one will need assistance getting on or off the airplane, special seating on the bus, or advanced boarding on the train, make arrangements ahead of time. To avoid confusion and unnecessary delays, ask travel assistants to be available at the point of entrance and exit for your loved one.
Ask for Help. To ensure safe travels, our Home Assist offers personal care assistants to accompany and assist clients on their trips. Whether for an over-night stay, a week away, or 24/7 for several months, help is available.
Contact Masters In Home Care if we can be of any assistance.