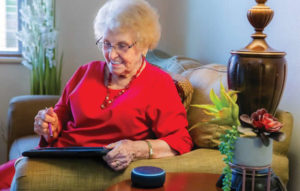 If you're choosing to age in place and you're alone, there are some very simple tasks that a shiny new piece of technology can help you conquer without too much hassle at all. Alexa, Amazon's version of a smart speaker is an example of one of these technologies that you can put to work in your home. Of course, it is not the only game in town as many other companies have introduced this same technology, but we'll stay with Alexa for the time being.
While we haven't quite gotten to the point that smart speakers will be true companions in the home, they certainly can perform tasks that you might otherwise have some difficulty doing. The best part of it all is that you don't have to get up out of your chair or bed to perform these tasks which is a tremendous thing for your safety.
Here are five ways you can use Alexa (or any other smart speaker) to help you while you're aging in place.
1. Set reminders: You can set up your smart speaker to remind you when to take your pills for instance. Just set it and forget it and when it's time Alexa will notify you.
2. Make phone calls: It's true, the smart speaker can make phone calls and you can do it just with your voice. Simply ask Alexa to "call my daughter" for instance and the dialing will begin.
3. Turn on appliances: Smart speakers can control just about any appliance in your home. Turn on the TV. Turn off the lights. Start the coffee pot. Alexa can do all of that.
4. Play music: Digging through boxes of CDs or worse yet records can be tedious and is likely something you'll avoid doing. Now if you want to listen to some music you can just ask for the song and Alexa will oblige.
5. Get the news: Being alone in your home can feel isolating, but if you are getting a daily dose of news from Alexa you will be able to stay up to date with what's happening in the world.
A smart speaker won't solve all of your problems while you're aging in place, but when you use it to it's full capacity it can certainly solve some of them. These devices placed strategically throughout your home can make simple everyday tasks easier and less strenuous on your body.