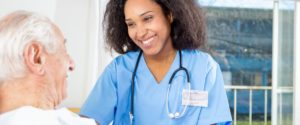 If you are the caregiver for your loved one you will need to communicate with his/her medical providers. These medical providers are very well intentioned but also often busy so to get all of the answers you will want you need to become a proactive communicator. This is not because the medical providers will not give you the information you need, but rather to ensure that you have all of your questions answered, when you need them answered.
In order to communicate well with your loved one's medical providers you will want to be proactive in a number of different ways including the following;
Be organized: medical providers are very busy and need to see a lot of patients throughout their day. The better organized you are with the questions and information you need the more likely you will be to get all of the answers you need in a timely manner. If you are scattered and forgetful you may require multiple visits with the provider and while that is perfectly acceptable it slows the pace at which you get the information you and your loved one need.
Share all the information you have: Medical providers will welcome family partners and the more information you can share about their patient the better it will be for them in treating him/her well.
Be assertive: There is a big difference between being assertive and aggressive. You will want to be assertive by speaking calmly and intelligently about your loved one's needs. If you come off as trying to steamroll the medical provider it may come off as more of an aggressive approach.
Medical providers are there to treat your loved ones with respect and the utmost care. This means that in order to communicate with them well you should do your best to be a partner with them and come together to share all the information both you and the provider have to give the best possible care.