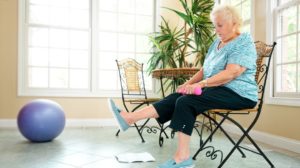 One of the most important things you can do to maintain a healthy lifestyle is to exercise. As you get older your joints don't move as easily and your bones ache a little bit more, but that exercise piece is still so critical to living a healthy life.
What are you to do though, if you are homebound and your mobility is limited? Can you still exercise? The short answer is YES! The slightly longer answer is it may take a little figuring out, but if you are at home, you certainly can still exercise.
Before you start any exercise regimen you should first consult with your physician.
The good news about exercise is you really don't need any special equipment and there is nothing at all that is absolutely necessary to buy to start. Your body weight will do the trick as it will provide enough resistance to get your blood moving and your heart rate rising. There are a wide variety of body weight exercises you can do on your own or with the assistance of a skilled professional. Exercises that only utilize body weight are the perfect way to keep up a healthy lifestyle while being homebound.
Depending on your mobility, you may be able to get up and move around the house. Believe it or not, the simple chore of laundry, for instance, will get your blood flowing and your heart rate up to a point where you can count it as exercise. Finding a few of these types of "chores" around the house will help you squeeze in some exercise to remain healthy while living at home.
Don't forget as well, your mental health. There are so many ways you can keep your mind and soul fulfilled even if there is some loneliness that comes from aging in place. Keeping your mind sharp can be done through puzzles and word games. If you feel comfortable on a computer or a tablet, there are thousands of games that can make your mind do mental pushups and keep your thoughts active. Your soul can be fulfilled by keeping a journal or having stimulating conversations with friends and neighbors as you see them.
It is vital to exercise, especially if you find yourself homebound. If you plan to spend your later years at home, getting into a routine of exercise can keep you living a long healthy life for many years to come.