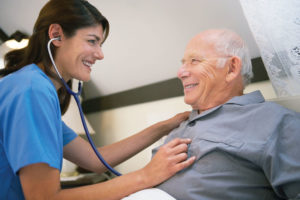 When you have a loved one with Chronic Obstructive Pulmonary Disease (COPD) taking care of them can be rewarding, but also exhausting. As a caregiver to a COPD patient, it's important to follow these tips:
Keep the COPD patient away from cold weather as it can exacerbate symptoms.
Recommend that your loved one begin breathing and exercise programs such as Better Breathers Club or Lung Help Line. These programs can provide not only important exercises to help patients exercise their lungs, but also social support.
Form a team of family members, friends, and medical providers, such as those with  to proactively communicate any health developments and provide the right care.
Find some respite and take proper care of yourself, the caregiver. The caregiver must schedule some personal time every day to take a walk, do yoga, listen to music, or just relax with a good book or a movie. Many caregivers use affordable adult daycare programs or in-home help. Adult daycare provides a community environment with art, music, exercise, games, and/or therapy. Home health care can help ease the burden of medical care.
Do you have questions about caring for a loved one with COPD? Masters In Home Care can help. Contact us to learn more about how we can help your loved one and the individual situation.