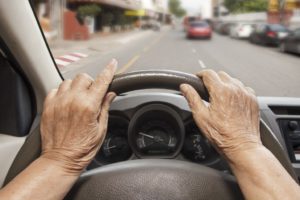 The topic of driving is a very delicate one to discuss as loved ones age. It can be difficult to reach consensus on balancing safety and independence while the fear of losing some freedom may cause your loved one to take more risks. Winter can pose an increased risk to some with earlier sunsets and reduced visibility. Ice and other weather conditions can create treacherous roadways coupled with reduced reaction times and other impairments this season can be a recipe for disaster.
The key to creating a plan to modify or stop driving is to develop it with your aging loved one and to do it before it is needed. Your plan can come in stages. For example you can start by creating a hazardous conditions plan where your loved one agrees to only drive between 10 a.m. and 3 p.m. when roads are free from ice and snow and to call for help with any transportation needs that occur outside of those conditions. Perhaps you will even develop a habit of checking in each week to go over the needs and social engagements.
The driving conversation can be overwhelming for adult children to think about, not only because of the anticipated response, but because of the increased responsibility to meet the social and logistical needs for their aging parents. You may be thinking, "How will I manage to keep up with my loved one's medical appointments, or get to the to the drug store before the meeting?" Keep in mind, that there are home health care agencies that can help you and your loved one manage. The healthcare professionals at Masters In Home Care are experienced and can work with you, your loved ones, and their physicians to make sure health needs are met with safety in mind. Contact our office to day to discuss your individual situation.