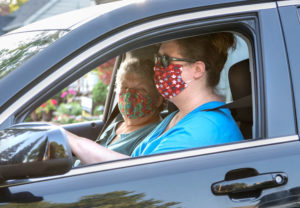 As more and more eligible adults are getting vaccinated, we will likely be able to start seeing our loved ones very soon.  If you've been waiting to see your loved one who is aging in place alone all this time, you will start to be able to visit very soon, if you haven't started already.  You already know how to keep your loved one safe if visiting, wear a mask, wash your hands regularly, keep some distance, etc. but do you know how to keep them safe when you are driving with them somewhere?
If you are a caregiver for a loved one and are bringing him/her to and from a doctors appointment, a hair appointment, or any other appointment that they will start going to once again, it is so critical to make sure that all areas that they will be spending any time enclosed in an indoor space or properly following safety measures.  You may not always think of the car as a place that needs to be addressed, but it does.  Making sure your car is correctly sanitized is important for your loved one's safety.   Here are some things you can do before transporting your loved one to and from appointments in the coming months;
Sanitize all hard surfaces.  While the CDC guidance suggests that COVID-19 does not necessarily transfer from surfaces, it is a safety measure that you should take to be extra safe.
Have extra masks available.  Your loved one may not have been out of the house for many months and they may not have their own mask.  Having masks available will save you stress and keep your loved one safe.
Wear gloves.  You may need to help your loved one get comfortable in your car and get their seatbelt buckled.  Wearing gloves will help you from getting any droplets on you and transferring them to your nose or mouth.
While a safe six feet distance may not be possible in the car, if the weather is nice it will be good a idea to drive with the windows down to help the air circulate through the car.
You may not have considered driving in the car with your loved one a dangerous activity before, but if the proper safety precautions are not taken it could lead to trouble and you certainly don't want someone getting ill from a ride in your car.
If you have questions about transporting your loved one, contact his/her medical providers to know if it will be safe to have them in your car.