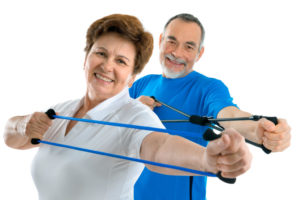 No matter our age we could all stand to improve our mobility and that goes for those who are aging in place. Improved mobility will help anyone who is living independently be able to maintain that lifestyle for a longer period of time. Mobility will help them get around the house and not rely on help for some daily activities.
The good news is, it is never too early or late to work on mobility. We can all use a little more mobility and therefore it is a great way to come together with your loved one who is aging in place to do for the benefit of you both. Many of the things that are recommended for increased mobility can be done outside at a safe distance to maintain social distancing.
Here are some exercises you AND your loved one can do together to increase your mobility;
Physical activity, anything that will increase your heart rate. A brisk walk or bike ride will do the trick.
Resistance exercises. Whether you're using weights to lift or resistance bands to provide durability to your muscles, resistance training helps strengthen your muscles which will lead to greater mobility.
Yoga. Stretching your body often can lead to greater mobility and yoga is a great way to do this safely as you age.
Chair exercises. Many exercises can be augmented to work while sitting in a chair so if you or your loved ones mobility is already compromised, you'll be able to start working on it.
Improving your mobility while aging in place is one of the best things you can do to help you maintain an independent lifestyle. Getting started on these exercises will help you get to the point where you are very self reliant. Make sure to consult with a medical provider before starting any new exercise program.