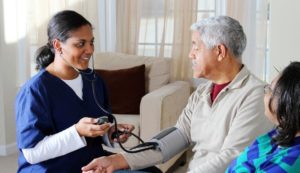 If you've never needed the services of a home health care agency in CT, you may not know what to expect.  Your comfort is at the heart of everything we do, so we want to make sure you have all of the information you need before our first visit.
When our services are requested by either you or a loved one, our experienced and knowledgeable medical professionals will take the time to understand your case and care needs before we even cross your threshold, including contacting your current physician(s) and any other health care professionals you are working with so that we have the most current medical history and information.  Despite all of that, we will want to hear much of your history from you because we tailor our care for each patient's unique situation based on all the information available.
In our first visit we will;
Introduce ourselves and talk with you about your situation
Go over any and all necessary paperwork
Discuss your personalized "care plan" and make sure you fully understand our goals
Review with you any medications you may be taking or may need to take
Make sure you understand how to contact our office in case a need should arise
Once we've completed our first visit it is our hope that you will have all of the information you need to help us get you on the road to recovery.  Of course, if you have additional questions or concerns, we're happy to help at anytime and are always just a phone call away and available to our patients 24/7.
Your comfort level with us is so important to the critical work we'll be doing together during your healing process.