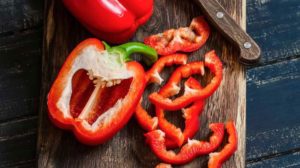 The summer months are great to get all of the nutrients your diet might be missing throughout the year. Especially here in Connecticut it can be difficult to get the types of produce necessary for a healthy diet year round. The good news is that it is not difficult during the summer months and we are right in the middle of farmer's market weather.
If you're able to get out of the house, the farmer's market could be an excellent place to get some of the healthy fruits and vegetables that will keep your immune system working the way it should be year round. If you are not able to get out, ask the person who does your grocery shopping if they mind making an additional stop at one of the area farmer's markets to get you some of that immune system sustaining fresh produce.
Whether you're headed to the farmer's market or someone is on your behalf you will want to be on the lookout for these super foods that will keep you strong and healthy year round.
Red Bell Peppers: When you think of vitamin C your mind may turn to oranges, but did you know that red bell peppers contain three times as much vitamin C as an average orange? It's true. These immune boosting veggies also grow easily here in the Northeast during the summer months and should be a staple of any farm stand.
Broccoli: If you can load up on this veggie all summer long you'll be feeling invincible in no time. One of the healthiest things you can put on your plate, broccoli will provide your body with needed vitamins A, C, and E as well as loads of fiber.
Spinach: If you're hoping to feel like Popeye you might turn to spinach and what makes a better bed for a fresh summer salad then this super food. This leafy green is packed with vitamin C and loads of antioxidants and beta carotene.
Tumeric: This might be a tricky one to get at a farmer's market, but you can certainly find it in your local grocery store. This anti-inflammatory is great for battling the inflammation that comes with many types of arthritis.
Almonds: This antioxidant unlocks your immune system. Just a half a cup of almonds will give your immune system the boost it needs.
A quick trip to the farmer's market or even your local grocery store will enable you to get the nutrients your immune system needs to thrive. A little planning on your part can put these power foods to work for you and make sure your immune system is strengthened.