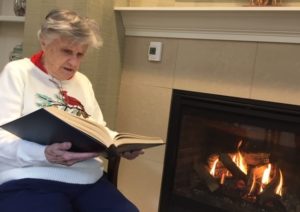 Winter is coming and if you are aging in place you know that that means the need to close up the windows, put in the storm doors, and turn on the heat. It's likely been a while since you've done these things and many others, so now is a good time to take a look at them and make sure your home is in good shape for the winter months.
Depending on your mobility many of these checklist items may need to be done by someone other then yourself. Now is the time to find someone who can help you with some of these minor chores around the house so that you can be comfortable, safe, and healthy in the coming cold weather months.
Here are five things you should make sure you have looked at and taken care of before the weather gets too cold.
Have your home heating system inspected for any issues. In the middle of the winter, if your home heating system fails, it will be a challenge to maintain your living situation
Check your windows for drafts and have any drafts taken care of by a professional.
If you use a fireplace, have your chimney inspected. A clean and sturdy chimney will keep you warm and safe throughout the winter months.
Test your smoke detectors and carbon monoxide detectors. These devices can be life savers, but if they aren't working properly they can cause you harm.
Clean your gutters. Having someone clean your gutters of debris that has collected in them over the spring, summer, and fall, will protect you against ice damns that could be damaging to your home.
The thought of doing all of these projects may be daunting, but they are necessary to keep you safe and healthy during the winter months. When you're aging in place, your home is your safe haven and it should not be a source of consternation as the weather turns colder. Hiring someone to take a look at these very specific issues could mean the difference between a cozy and warm winter season or a miserable and long one.