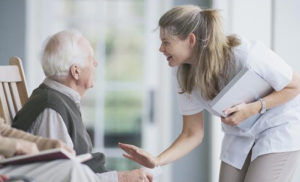 When people think of a home health care agencies in CT they often think first and foremost of medical care. That is to be expected as our medical providers are incredibly skilled in managing care for our patients. There are however times when an additional layer of support is needed to help a family or their loved one get through what can be a difficult time. This where our medical social workers come in.
These incredibly caring and loving individuals can help you and your loved one through times and decisions that may be difficult, but need to be discussed. While our medical social workers do so much for our patients, there are five many objectives that they carry out each and every day.
Short term counseling services to aid family members through the emotional distress that often accompanies physical challenges.
Making connections to community resources.
Aiding in finding financial solutions and alternatives.
Placement if a patient is unable to receive care in their home.
Assistance with living arrangements.
It is for these reasons and many more that our patients come to rely on our medical social workers as much as they do on our medical providers. As medical social worker is someone who helps you and your family through the process of healing and is a vital resource as you navigate the challenges you may be facing.