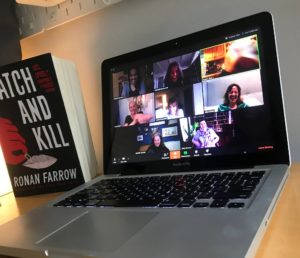 Aging in place can, at times, feel isolating and lonely. It is important for your physical and mental well-being to remain social even if you are confined to your home. One very small silver lining to the Coronavirus pandemic is that many things have been moved from taking place on-location to on-line which opens up a whole world of opportunity for you to get the needed socializing while remaining healthy and safe in your own home.
Depending on your mobility you still may be able to socialize outside of the house, but today we're going to focus on things you can do to be social while you're at home. Not only will remaining social while home be a welcome change for many, it is also the best way to stay safe during this uncertain time.
Here are some things you should consider to socialize while remaining at home:
A book club: The old tried and true way to get a group together and engage in some intellectual banter, but now it will need to be done at a distance. If your group is all comfortable with technology you can hold a video conference, but even if not, a conference phone call will do the trick.
Online classes: Not only will it keep your mind sharp, but you will be able to interact with students of all ages to get the socialization that you need.
Find a pen pal: One of the best things you can do to stay social is to make a deep connection with someone, no matter their age. Whether you send letters through the mail or emails back and forth, a pen pal will keep you social for a long time.
Virtual Dinner Party: No it is not the same as having your friends or family over for Sunday dinner, but it certainly will feel like they are in the same room if you can get the video conference set up well. You don't even need to be eating the same thing, you can share recipes.
Movie night: Find a movie that is playing on TV that you both can watch and keep your special someone on the phone or on a video call to watch the movie together. It will be ALMOST like you're together in the same room.
Having to be apart from everyone can be isolating. It is something that will make you long for the days when you could have company and see your friends and family. While virtual socialization is certainly not something that will replace in person interaction, it will hopefully bridge the gap until we can all be together again.