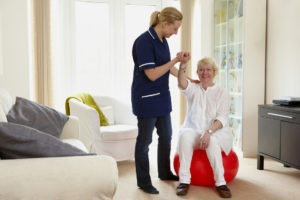 As one of the premiere home health agencies in CT, Masters in Home Care offers rehabilitation services that are second to none.  If you or a loved one is in need of these types of services, you will be visited by one of our skilled, licensed therapists who will work with you on four goals to get you back to your old self in no time.
1.) Increase strength
2.) Increase flexibility
3.) Improve range of motion
4.) Improve coordination
While every circumstance is different, our skilled, licensed therapists can offer speech, occupational, or physical therapy to make sure you or your loved ones needs are met in a timely and compassionate manner.
If you are in need of physical therapy, occupational therapy, or speech therapy, contact us and we will discuss your individual case with you to see what your needs are.