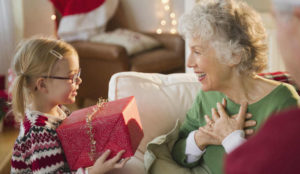 By now your stockings are all hung and your tree is all trimmed, now you are getting ready to have you guests arrive. When you are aging in place and living alone, having company can be an exciting time. Seeing friends and family that you may not have seen in some time can fill you joy, but it also may fill you some levels of stress. Preparing a home can be a daunting task especially if you're having mobility issues. The most important thing to keep in mind is that all of the people who are coming to see you are there with open hearts and helpful hands to spend a stress free and healthy holiday with you.
That being said, you will want to be prepared for the unexpected as these things always arise and when they do, being prepared for them will keep the day holly, jolly, and bright, without causing you any mental or physical anguish.
So, how can you prepare for holiday company to make the day a special one?
Set realistic expectations: Depending on how you are doing, a full day of visitors might not make sense for you. Make sure that your guests know how long a visit you can handle and limit your time together to that length. This will allow you to enjoy the day without worrying about having to usher people out of your home unceremoniously.
Stowe away any medical equipment: If you have equipment that you don't rely on everyday, you can stowe it away while you have company. This will free up some space and allow you to entertain comfortably.
Don't forget your dietary restrictions: Food can often become a source of difficulty when you're having company. People may bring food that you aren't sure what the ingredients are and you may find yourself eating outside of your normal routine. This can have some problematic effects on you during and after the visit. Keep an eye on any dietary restrictions you might have and eat accordingly.
Have fun!: We've saved the most important one for last. Savor the time you're getting to spend with loved ones because they will be memories you can carry with you until the next visit.
If you have a home health care agency coming to your home, you can talk through some of these details with your provider. He/she can make additional recommendations and also offer some insights into the above tips. Don't be afraid to ask questions so you can have the best holiday entertaining experience.