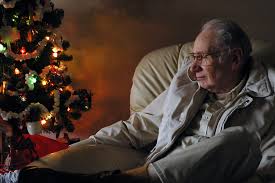 The holidays offer many opportunities to spend quality time with family and friends. If you are a caregiver or family member of an aging loved one, you may observe a change in their mood or behavior during this time. You may notice unusual signs of fatigue or sadness or perhaps limited interest in the holiday season.
The winter holiday season (and the colder months which accompany it) can intensify feelings of sadness which aging seniors often experience. Most often it is not the holiday itself that cause these types of emotions among the elderly, rather the fact that the holidays tend to bring memories of earlier, perhaps happier times.
Depression in seniors can be caused by the following:
Loss of a spouse or loved one
Memory loss
Poor diet
Lack of exercise
Minor or serous medical problem
Chronic pain or complications of an illness
A move to a care facility
Change in routine
General frustrations with aging
Symptoms to look for include:
Depressed or irritable mood
Obsessive thoughts about death and suicide
Lack of attention to personal care and hygiene
Anxiety
Difficulty concentrating
Fatigue
Feelings of worthlessness or sadness
Loss of appetite
Irresponsible behavior
Expressions of helplessness
Loss of interest in daily activities
Weight loss
Once the cause of depression is identified by a healthcare professional, a treatment program should be implemented. Treatment may be as simple as relieving loneliness through visitations, outings and involvement in family activities. In more severe cases antidepressant drugs have been known to improve the quality of life in depressed elderly people. Cognitive therapy sessions with a counselor may also be effective. If you or your family need help managing the care of your loved one, contact the professionals at Masters In Home Care for a comprehensive consultation.