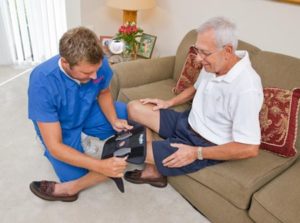 If your loved one is nervous about their home health care, it is completely understandable. In addition to the challenges your loved one's medical situation presents, they now need to get used to a new medical routine with a new set of individuals.
Getting used to home health care requires an adjustment period for both patients and their family. Here are a few things you can expect when helping your loved one adjust to home health care for the first time.
Allowing Them To Have A Voice
Patients may be apprehensive to home care is because they no longer feel independent. This may be especially true when it comes to managing personal hygiene or performing home activities they are used to managing themselves.
However, a good thing to keep reminding your loved one is that home health care provides a positive force in their life and not a negative one.  At Masters In Home Care, we work directly with our clients and their families to provide the highest quality of care possible while still being mindful of the patient's need for independence and privacy.
There may still be an adjustment period, however every effort is made to ensure the patient's quality of life does not suffer and that they retain as much self-reliance as possible.
It Takes Time
We explain every step of the process to the patient as well as their family. Education is important, and our nurses, therapists, and aides are available to help during the adjustment period and answer any questions the patient or their families might have.
Our team at Masters In Home Care is not compiled of rookies. We staff only experienced health care professionals