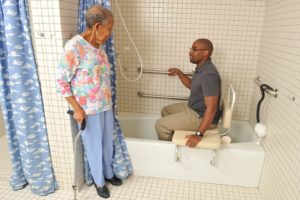 Occupational and physical therapists can treat patients in a variety of settings: hospitals, offices, and even homes. The occupational and physical therapists at Masters In Home Care are professionals with experience. There is often a misunderstanding as to the differences between physical and occupational therapy.
What is Occupational Therapy?
Occupational therapists assess how a patient performs what are known as "activities of daily living" in their home. For example, are they able to feed themselves? Bathe? Groom? Get dressed? Use the bathroom? It's important for the therapist to know if a patient can do these things without assistance and do them safely.
In partnership with the patient and anyone else that may be taking care of the patient, the therapist then develops a plan of care to help the patient function independently and safely in their home. The therapist will include adaptive techniques in a plan of care, that is, ideas for overcoming obstacles or challenges such as high shelves or stairs in their homes. The therapist may also include information on how to use assistive devices, such as a chair lift to help them get into bed. They will also develop an exercise plan with the patient to increase their function.
All of these strategies are based on the individual patient and the patient's unique home environment. The caregiver is also kept abreast of the plan of care to ensure a smooth transition when the patient reaches his or her goals and no longer requires assistance from an occupational therapist.
What is Physical Therapy?
Physical therapists also assess patients' independence and safety but they do this by looking at their mobility skills in their home. This includes walking, stair management, transferring from a wheelchair to a bed, bathroom or any other transition a patient may have to make.
Physical therapists create individual patient treatment plans to match each person's goals, helping people improve their fitness and function, avoid surgery, reduce the use of opioids and other drugs, and partner in their own care. This may include training in the use of a walking device or safe body mechanics during transfers. They will also develop an exercise program to help a patient gain strength and range of motion. All of these activities help patients achieve safety and independence in their home by addressing whatever is limiting them.
If your loved one is in need of occupational and physical therapy to maintain a healthy lifestyle at home, look no further than Masters In Homes. We are a growing home health care agency in Connecticut. Contact us to day to schedule a consultation.