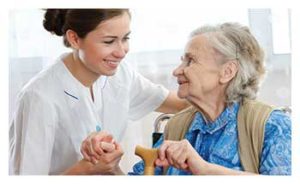 Caring for an individual with Alzheimer's Disease can be a challenge and take its toll. Below are a few tips to care for those living with this disease.
Alzheimer's disease affects language. Your loved one may substitute words, such as "I need a fork" when he or she meant to say "I need a spoon." Just give them the spoon, don't try to correct them as this will not change anything.
Speak in a gentle, calm tone of voice in short simple sentences.
Avoid baby talk. The patient is still an adult and should be treated as such.
Bathing can be startling for an Alzheimer's patient. Prepare everything in advance and let them do as much of it themselves as they are capable of.
When assisting with dressing, provide two outfit choices and let them pick which one they want to wear.
Your loved one may start to become suspicious of other people. When this happens, turn the conversation to more neutral subjects.
When difficult chores arise like bathing or teeth brushing, you can distract your loved one with another activity activities they like to get the more difficult ones completed.
Meals can be a challenge. Use dishes and utensils that promote independence like bowls and straws.
Find a way to ease your Alzheimer's patient's concerns. If they ask the whereabouts of a spouse who has passed, it is ok to say that person is at work.
If your loved one has a toileting difficulty, getting on a bathroom schedule may help.
Things will take longer with an Alzheimer's patient. Plan for this and be patient.
it is important to know that loved ones with Alzheimer's cannot control what is happening to them. It is us who must adapt to them.
At Masters In Home Care, we work directly with our clients and their families to provide the highest quality of care possible while still being mindful of the patient's need for independence. Contact us today to discuss how we can help care for your loved one.