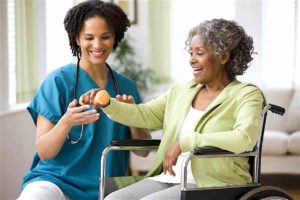 Home health care is a popular option for the aging population. It is a more cost-effective solution to increasing medical costs and hospital admissions. Home health care workers in Connecticut can provide necessary medical care for patients in conjunction with the patient's physicians.
Caregiving from afar, working full-time and caregiving and/or caring for someone 24/7 will take a toll on anyone. With a loved one who needs personal care and who can't be left alone, you must be vigilant and "on duty" day and night. With constant care and companionship responsibilities, you may have very little time to yourself. If you are caring for someone who needs to be transferred from bed to wheelchair or out of a chair when sitting, you may be at risk for injuring yourself or them.
For those caring for a family member living with dementia, you may be also be dealing with challenging behavior, wandering risks, or actions that might be harmful or dangerous such as leaving stove burners on.
A home health care worker is a compassionate person who provides are for a patient.
Consider your needs as a caregiver and the needs of the person you are caring for. Does your love one need:
Personal care: Bathing, eating, dressing, toileting, grooming
Household care: Cooking, cleaning, laundry, shopping
Health care: Medication management, doctor's appointments, physical therapy
Emotional care: Companionship, meaningful activities, conversation
If you are considering home health care for your Connecticut loved one, contact Masters In Home Care. We will listen to your concerns and the needs of your loved one. Our staff are all experienced caregivers that maintain the highest level of care for our patients.