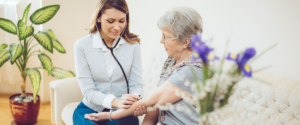 There is often a desire to lump these services in to one category since the terms sound similar, both types of care are delivered in the home, and they are both intended to help older adults stay as independent as possible.  But there is a distinct difference in the services and care they provide.
Home Health Care provides "medical" or "skilled" care by licensed nurses and therapists.  Home health care is provided by home health care agencies usually Medicare certified, Medicaid certified, state licensed and often accredited by an accreditation organization, like Masters In Home Care.  In Connecticut, home health care agencies are required to be licensed by the Connecticut Department of Public Health (DPH).  Home health care agencies provide medical care in the home environment under the direction of a physician who orders care to be performed by licensed healthcare professionals. Typically these medical care programs help the patient recover from an illness, injury, disease or exacerbation of a chronic condition and includes services such as wound care, infusions, invasive catheter care, assessments, patient/caregiver teaching, medication management and administration of complex medications like injections as well as in home rehabilitation for those that are housebound.  Home health care is covered by Medicare, Medicaid, and most private insurance plans for eligible patients.  Home health care visits are typically a few hours per week, depending on the patient's needs and physician's orders.  Home health care services may be provided by:
Nurses – RN and LPN
Therapists: Physical Therapy, Occupational Therapy, Speech Therapy
Medical Social Workers
Home Health Aides / CNA – Certified Nursing Assistant
Home Care is typically provided by agencies that offer non-medical (or non-skilled) services which are provided under the direction of a non-licensed individual who develops client service plans for clients who wish to receive companion, homemaker, or personal care services. Home care is sometimes called personal care, companion care, custodial care, or homemaker services.  In short, non-medical home care is when a professional helps with things you would normally do for your loved one or yourself.  In Connecticut homemaker-companion agencies are required to be registered with the Connecticut Department of Consumer Protection (DCP).  These programs tend to focus on the long term care needs of a client, and the intent of the personal care program is to keep the individual safely in the community for as long as possible. Home care is typically paid out of pocket by the client or family. In some cases, Medicaid or long-term insurance will cover the costs of home care.  Home care visits can help clients 24/7 and may continue as long as you want, based on your budget and needs.  Personal care services typically consist of assistance with Activities of Daily Living (ADLs) including: bathing, dressing, grooming, shaving, medication reminders, feeding/meal preparation, toileting, linen changes, laundry and other activities to keep the patient in the home. Home care services may include:
Bathing, toileting, dressing and grooming (personal care)
House cleaning and other chores (homemaking care)
Meal preparation
Companionship (companion care)
Medication reminders
Respite care
Live-in/Overnight care
Incidental transportation
When you're comparing home health care vs. home care, you should know that you can receive both at the same time.  Home health provides skilled, clinical care to help the patient recover, and home care helps with day-to-day caregiving and tasks.  Both types of care can help older adults stay safe and independent in their homes.  If your loved one is in need of a skilled medical care plan at home, contact us at Masters In Home Care. We are available to provide a complimentary consultation on the care plan prescribed by the physician.