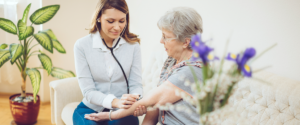 This is often a desire to lump these services in to one category, but there is a distinct difference in the services and care they provide patients.
Home healthcare is provided by home health care agencies usually Medicare certified, state licensed and often accredited by an accreditation organization, like Masters In Home Care. Home healthcare agencies provide medical care in the home environment under the direction of a physician who orders care to be performed by licensed healthcare professionals. Typically these medical care programs help the patient recover from an illness, injury, disease or exacerbation of a chronic condition and includes services such as wound care, infusions, invasive catheter care, assessments, patient/caregiver teaching, medication management and administration of complex medications like injections as well as in home rehabilitation for those that are housebound. These services are provided by:
Nurses – RN and LPN
Therapists – Physical, Occupational and Speech-Language Pathologist
Homecare is typically provided by residential care agencies that are state licensed and provide non-medical care also known as personal care service in the home environment under the direction of a licensed Registered Nurse (RN). The RN will develop a care plan for the individual requiring help in the home on a day to day basis. These programs tend to focus on the long term care needs of a patient and are considered alternative options to nursing homes. The intent of the personal care program is to keep the individual safely in the community for as long as possible. Personal care services typically consist of assistance with Activities of Daily Living (ADLs) including: bathing, dressing, grooming, shaving, medication reminders, feeding/meal preparation, toileting, linen changes, laundry and other activities to keep the patient in the home. Until recently Medicare did not cover this service but starting in 2016 this type of care will be covered. These services are provided by:
CNA, Certified Nursing Assistant/Certified Nurses Aide
HHA – Home Health Aide
PCA – Personal Care Aide
DCA – Direct Care Aide
Concierge homemaker care agencies offer non-medical, no touch services which are typically provided under the direction of a non-licensed individual who develops client service plans for clients who wish to receive companion or homemaker services. Most agency requirements for a companion are a high school education or GED and the individual must be able to provide services like reading, transportation, conversation and socializing, activities and games, meal preparation, laundry, and light house keeping. Typically these services are paid out of pocket by the client or family.
If your loved one is in need of a medical care plan at home, contact us at Masters In Home Care. We are available to provide a complimentary consultation on the care plan prescribed by the physician.