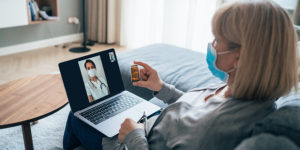 Telehealth. Until just a few short months ago it may not have been a phrase you were familiar with, but we certainly have had to get familiar with it in the last few months. This is the process by which you use technology to be seen by a medical professional. Utilizing an Internet connection and a piece of hardware (whether it be your mobile phone, computer, or tablet) you can discuss your medical condition with a provider in a safe and secure way without visiting a facility where you have the potential to be exposed to the COVID-19 pandemic.
This type of medical practice was rare before the pandemic began and then it became the norm for a few months with very few guardrails in place for providers and patients alike. Now, however, the state of Connecticut has stepped in to provide some guidance on how and when it can be used. These guidelines are important for you to know so that you can make sure you are seeing a medical provider in the safest way possible when necessary.
Earlier this summer, the Connecticut State House of Representatives and the Connecticut Senate both passed an act regarding telehealth. It allowed for the following:
An expanded list of health care providers that could provide telehealth services
Allows telehealth to be conducted via audio-only in some cases
Provides room for additional technologies to be used (i.e. Apple Facetime) for telehealth visits
Requires telehealth to be covered under insurance
Prohibits insurance companies from limiting the use of a telehealth provider that is selected by an in-network provider
While, as of this writing, the Governor has not signed this bill into law, it is anticipated that he will do so. This will open up your ability to receive telehealth services and have insurance cover it when needed.
With that being said, as a Connecticut home health care agency we put a premium on seeing our patients in person whenever possible and make every effort to do so. If you have questions about the use of telehealth services, please contact us immediately.