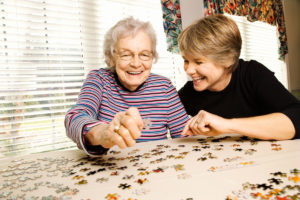 The studies are endless that show that a healthy mind is so critical the process of aging. Whether it be by fending off the symptoms of dementia or remaining sharp to interact with loved ones, the health benefits of keeping your mind sharp are consistently being researched and reported on. That is why it's so important that when you or your loved one is aging in place that you have a way to continue to challenge your mind and maintain a healthy brain.
Here are a few things you can do, even when you are at home, that will keep you sharp for many years to come.
Strain your brain: This is one of the most effective ways to keep your mind sharp. There is a wide spectrum of activities you can do to maintain that "brain strain." You can watch a new and interesting television show that requires thought and understanding, you can do crossword puzzles, learn a new language, or read a good book. The best way to maintain a healthy mind is to continuously use it.
Get Uncomfortable: Whether you're talking about a topic that you are not confident in your knowledge of or are interacting with new person, being uncomfortable is a way to challenge your brain to continue to think differently.
Learn something: Anyone who is consistently learning new things is challenging their brain, this will keep your mind sharp for many years to come.
Interact with people: Staying social will make sure that your brain is constantly challenged. Talking and sharing stories requires your memory, you auditory functions, and your communication skills to all work together. This is a great way to keep your brain in tip top shape.
If we are working with you or a loved one as your home health care agency in Connecticut we can continually remind you to keep your mind active and working hard. This is not only good for your mental health, but also your physical health.