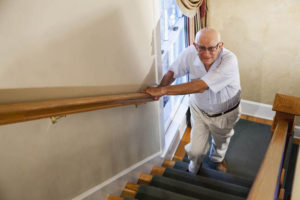 If you or a loved one are aging in place, one of the trickiest areas of your house can be navigating a staircase. While single floor living is popular, many who wish to live on their own like to have space for visitors which may not be accommodated by a single floor living space. It is for this reason that stairs may be an unavoidable issue you will have to deal with as you or your loved one age.
Stairs in a home are often taken for granted, but as you get older they can present a challenge. The good news is that there are some things you can do to make staircases safer and less of a hazard for you or your loved one.
The first thing you want to do is to make sure that a staircase is secure. This includes having a professional come who can assess the stability of each step and make any recommendations on what might need to be fixed. The professional should also review the railings and make sure there are no structural issues there. A loose floor step on a staircase can make all the difference as to whether it is safe or not.
If you are concerned about falling hazards in your home you can contact us and we will perform a fall risk assessment to ensure your home is safe.
Next you will want to install a light switch at the top and bottom of the staircase. According to the National Institute on Aging, having a light switch at the top and bottom of your staircase can save you from falling.
One other suggestion for added light are night lights. If you are trying to navigate a staircase at night, extra lighting is always a good idea.
The staircase in your home doesn't have to be a hazard, but it can easily be one. Take these steps to ensure that the home you're living in is one that can easily be secured so you can enjoy many years to come.