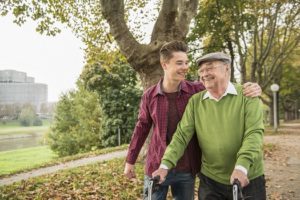 When your loved one is aging in place it is good for his/her mental and physical health to get outside once in a while. Being cooped up in a home without any sunshine on their skin or fresh air in their lungs can be bad for their emotional and mental health. However, getting him/her out of the house can be a challenge, especially if they are facing mobility issues. However, outdoor activities can be done regularly and safely, you just have to know how.
Protect them from the sunshine: Not unlike all of us a good dose of Vitamin D can do wonders for your loved one. However, too much of a good thing can be trouble. When taking your loved one out for some fresh air be sure that he/she is covered up appropriately and protected for the sometimes damaging rays of the sun. While sunscreen might not always be appropriate, covering up with clothing and especially a hat can be critical to their health and well being.
Avoid tall grass: Whether walking or being pushed along in a wheelchair it can be tempting to go off the beaten path, but tall grass is where ticks lurk this time of year and that is another headache all together that you won't want to be dealing with once back inside. When outdoors with someone who already has a medical condition it is best to stay the course and walk along clearly marked walkways.
Avoid strange animals: While it can be tempting to pet a cute dog that is passing by, your loved ones reflexes are already dulled and adding a strange animal to the mix could cause trouble for both the animal and for your loved one. It is best to avoid dogs of any kind and admire them from a distance.
Keep it short: Stamina can be at a premium for someone who is aging in place, so it's important to keep that in mind when taking them outside. A change in scenery can be stressful to a brain that sees the same inside of their home day in and day out. Be aware of this and make sure to ease them in to an outdoor activity.
You can consult your medical provider if you're concerned that taking your loved one outside could be too much for him/her. If you're using a home health care agency in CT you can simple ask your aide and he/she should be able to give you a proper assessment of the abilities of your loved one.