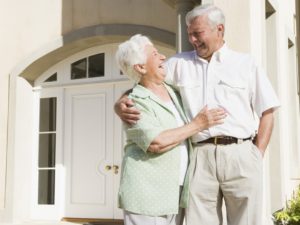 If you have a loved one who is moving to a new home or renovating an old one, it's important that it is designed to be comfortable and safe for older adults. Adding a handrail or a grab bar usually isn't enough while there are so many more elements of a home that can be adjusted to make aging in place easier.
The Bathroom. Bathrooms are a challenge for some older adults. Consider installing a walk-in shower and/or shower rails to facilitate balance, and seats (permanent or foldable) are a must for older adults who have difficulty standing on their own. A handheld showerhead for better maneuverability and a shelving or a shower caddy to make toiletries more accessible. A comfort height toilet can also make a huge difference for adults with limited mobility. For fall prevention, consider placing non-slip mats on the floor in the shower and replace any slippery floor tile with textured vinyl flooring.
The Bedroom. Throw rugs or mats are trip hazard for older adults. Closet organizers may also be a worthwhile investment for your aging loved one if their closet tends to get cluttered; it everything has an accessible place, there is less of a chance your loved one will trip over clothing or shoes or hurt themselves while trying to reach for out of the way items. A sturdy chair in or near their closet for them to sit on while they dress can be useful. Electric adjustable beds may also be useful for helping your loved one get up safely in the morning. If their bedroom is upstairs and your loved one has trouble navigating stairs, consider installing a stair lift so they can get to and from their room with ease.
The Kitchen. Design is important if your loved one loves to spend time in the kitchen cooking. Investing in softer flooring that will be gentler on the joints and make standing more comfortable. A sturdy stool that your loved one can sit on while they cook can work well. Also, consider adjusting lighting to better illuminate the stove or any areas that need more light, such as over the sink as a dimly lit space can increase your loved one's risk of cutting themselves with a knife while chopping veggies or burning themselves on the stove. If your loved one is in a wheelchair, consider installing a roll-under sink for safer and easier access.
The Living Room. Clean, simple furniture arrangements that are easy to navigate and keep clear of clutter. Grab bars can be very useful in the living room, especially on the walls next to the couch or chair where your loved one likes to sit, as they will make it easier to stand up. Lift chairs are another good thing to look into as they also make getting up from furniture safer. If your aging loved one uses a walker, make sure to arrange the room to easily accommodate this so they don't compromise their stability while maneuvering through the space.