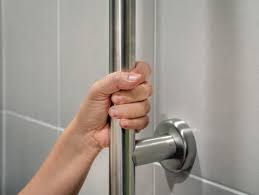 One of the most dangerous areas of our home is the bathroom. Not only are their potential issues with mixing water and electricity, but believe it or not one of the most routine activities we partake in each day, bathing, can be very dangerous, especially those who are already not too stable on their feet.
Each year in January, we take time to talk about bath safety and bring awareness to these issues so that we can help keep ourselves and our loved ones safe.
The good news is that while the bathroom can be a dangerous place for those that are aging in place there are also some things you can do to help make it safer. Here are a few suggestions if you have not already implemented them in yours or your loved ones home.
Add grab bars to your shower. Slipping in the shower can be dangerous, but grab bars will help protect you from falling or to regain your balance if you get wobbly in the shower.
Install non-slip mats to prevent your shower floor from become a hazard when it gets soapy.
Add a anti-scald feature to your shower head or faucet.
Is bathroom safety really a problem? The short answer is yes. Annually nearly 5,000 people die from drowning in the bathtub. These staggering numbers can be minimized by taking these few small steps to protect you and your loved one from danger in the bathroom.