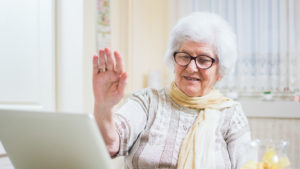 The holidays are going to look a lot different this year. There won't be grandkids bouncing on grandpa's lap and pumpkin pies in the oven that were baked with grandma. It's one of the most difficult things about the COVID-19 pandemic, not being able to see our loved ones.
That means one very important thing, you will need to check in on those who are aging in place more regularly and earlier this year. Even thought the holidays are still quite a few days away, a simple phone call may not cut it this year because there won't be the big family celebration. You may need to start your connecting early and extend it out over a few days.
Here are some things you can do to make sure that your loved one is prepared for a "virtual" holiday visit from their family and friends.
Get them setup with the right technology – if they don't already have a computer/tablet/phone that they connect with everyone on, chip in and have one shipped to them.
Help them get the technology needed setup so they don't have to fumble around with it on the day of the celebration and they can just enjoy the festivities.
Do a test run. Ask two or three people to get on a virtual call with your loved one so they can get a feel for what it is like and how they can best interact.
Think ahead with providing a care package of festive foods and decorations so your loved one can feel the spirit.
Schedule a few celebrations so that you can include anyone your loved one might want to "see" during the holidays and spread it out so it's not too overwhelming.
A very technical holiday season is not one that your loved one may have signed up for, but it certainly beats the alternative of being at home and all alone. If you can help him/her get setup and comfortable with the tech before the celebrations began, they will be able to enjoy it in the best way possible this year.