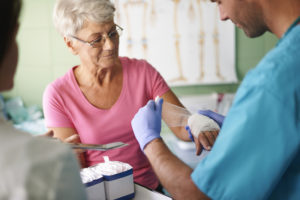 If you have experienced a wound and need care in your home, we can help. Our services are paired with your physician and any other caregiver you are working with in a team approach to making sure your wounds heal in a timely manner. Some types of wounds we can handle are;
pressure ulcers
wounds resulting from vascular conditions
diabetes
trauma
surgery
disease or infection
burns
ostomy care
and others…
Our team of experienced medical professionals are experienced in wound care and can help assess your needs and give you the best quality care at the very time you need it and without leaving your home. We also work with a medical manufacturer that gives us access to the widest range of medical supplies available anywhere.
We will make sure you are healed up in no time.
As one of the premier home health care agencies in Connecticut we are pleased to offer this important service.