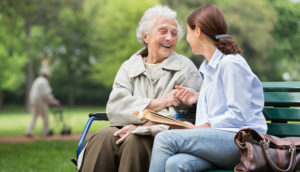 If you are one of the hundreds of thousands of unpaid caregivers that exist in the United States you are not alone in feeling the effects of this pandemic even greater then ever.  Caregiver burnout is a real thing and in order for you to provide the best quality care for your loved one you need to make sure you address this for yourself.
First, let's dispel the myth that because you are feeling burnout you are not a good caregiver, this is patently false.  Caregiving is a tiring, often thankless job, that will be critical to the everyday existence of your loved one who may be aging in place, but it is also WORK that often goes right alongside your professional work and even other family obligations.  It can be tiring and draining, but it doesn't mean that you have any less love in your heart for the person you are caring for through their time of need.
While you may be feeling some burnout, there are some things you can do to prevent yourself from feeling this way all the time.
Take a break.  This is critical.  If your loved one needs 24 hr. care, see if you can have another family member or friend relieve you from time to time so you can make time for yourself.  Even if you are just doing weekly check-ins, take a week off and make time for yourself.  You will be a better caregiver for it.
Make time for connection.  The exhaustion for caregivers often sets in when it feels like a job.  Some of that is unavoidable, but if you are making time to connect deeper with your loved one it will make it feel less like work and more rewarding.  Decorate for the holidays, share pictures of the rest of the family, play a game or watch a movie that you both will enjoy together.
Spend time outdoors.  Nature has a healing power that is unparalleled.  It slows everyone down and allows for some reflection.  Even if your loved one can't make the excursion out of the house, open some windows and let the fresh air in, this is healing.
Don't be afraid to take your time.  Time may often feel like it is rushing by as you have all of your care taking duties, but it is ok to slow down and take your time to do a job so you can take the stress out of it.
Being a caregiver can be a life saver for your loved one who desires to age in place, but it can also be very difficult for you.  Take the time to give care to yourself and you will help avoid burnout and enjoy the precious time you have with your loved one even more.