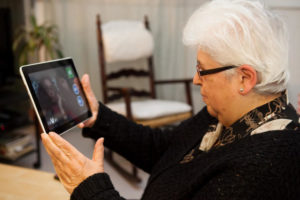 When you have a loved one who is aging in place, it will be important to both of you that you stay connected to one another. Your loved one will need this on-going connection to avoid feelings of isolation. You'll want to maintain it so that you have peace of mind in knowing that your loved one is safe and so that you can create memories from this shared experience. 
But, keeping a close bond alive when you're busy running kids around, trying to work or live halfway across the country can be challenging. Give some of these ideas a try.
Traditional ways to keep the conversation going
Fresh air and a stroll.

Whether your loved one is able to walk or will sit in a wheelchair to enjoy the day, there's nothing better for boosting the spirits and kicking off conversation than getting outside together.

Snail mail.

Go beyond the Christmas card. Drop a note each week. Everyone loves getting a surprise in the mail. Spice it up with pictures of the kids and your activities. 

The telephone.

Pick a regular schedule that works for you both. The call will give your loved one something to look forward to each week, and it will give you both a good chance to catch up on what's happening.

Keep up with the news and current events.

When it's time for your loved one's social life to slow, they may keep in touch with the world around them by reading newspapers and watching the local news more so than before. The more you know about what they are seeing and hearing, the easier it is to engage in conversation.

Take part in their hobbies.

What are the things that your loved one has always enjoyed doing? Is she a gardener? Bring a pot and flowers. Spend time putting together a spring display. Is he a baker? Whip up some cookies together. 

Read a book together.

If you're nearby, you could do it in person. If you're not, you could both read the same book and then discuss it as though you're a mini-book club. Keep in mind that, if reading is a challenge, there are many audiobooks available today.

Ask questions.

Of course grandma and grandpa want to hear about the kids and if your old car is still running. These make for happy topics. But, take care to explore what's important to them as well. Ask lots of questions about what they are doing, and if that doesn't spark conversation, try topics from their past. It's a good opportunity to learn more about your loved one's history.
Use technology to stay in touch with your loved one who is aging in place
Video conferencing.

Sometimes a phone call just isn't enough. Use Zoom, Google Hangouts or Skype to stay connected. It's always fun to see one another's faces. 

Digital picture frames.

Take a look at wifi enabled picture frames. It's a great way to easily share digital photos with your loved one who is aging in place. Set up the frame at their house, and then you can share your photos with them directly without them having to do a thing.

Text/chat groups.

Is your loved one savvy with a cell phone? Set up a group chat with you, your loved one and other family members. It's a good way to share the little details and questions of daily life that get lost in longer phone conversations. 

Play games.

Add Words with Friends or Hangman to your loved one's phone and get in the habit of starting up a game. (A quick search brings up lots of other 2-player games from which to choose.)

Share articles.

Read something that was exciting to you or reminded you of your loved one? Take a minute to send it off. 

Create a shared digital calendar.

If your loved one is comfortable with technology, having a shared digital calendar can be useful to both of you. You can keep up with events and reminders from their life. They can catch a glimpse into what you're doing on a day-to-day basis.
How can young people and teens stay connected too?
While it's important for you to stay connected to your loved one who is aging in place, you may also want to guide younger family members in doing this. All the tools from above apply, but use them in ways that work for your kids. Use shorter "visits" and don't rely as much on making conversation. Try:
Storytime or a quick recital via video conferencing

Sending artwork

Sharing video clips of sporting events and plays

Letting little ones send a voice message through text

Teens can send music, pictures of their significant others or thank you cards

Sending examples of school work
Whatever methods you pick to stay connected to your loved one who is aging in place, our last suggestion is to also stay in close contact with their home health care provider. Since these people will be helping with more intimate details of your loved one's life, they can be a wealth of information about how things are going and even offer more personalized ideas about how you can stay involved.