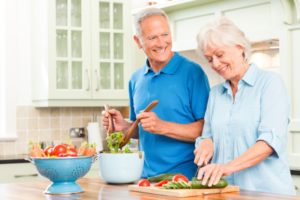 So you've decided that aging in place is right for you? This is great news and a wonderful decision to keep you in your home and healthy for the next chapter of your life. As part of that journey you will want to make sure you are doing everything you can to keep yourself healthy and able to live a long life. It is for this reason that we've developed a handy checklist for you to use to make sure you get the most out of this chapter of your life.
As you think about how you're going to be living in your home, you'll want to consider the things on this checklist and how you can make sure they work for you. We all want to age gracefully and live healthy for many years to come and this checklist will help you do just that.
Eat healthy foods: We can all use this advice at any age, but as you get older you'll want to make sure you have a healthy dose of superfoods like walnuts and salmon which can deliver a wide range of health benefits.
Stay hydrated: The morning cup of coffee you love is just fine, but you'll want to follow that with a good amount of water each day. Staying hydrated is a critical way to maintain your health as you get older.
Exercise: No matter how big or small the amount of exercise you can handle is, it will all be a great benefit to your health. Even a 15-20 minute session of chair yoga will do the trick as you continue to age.
Keep your skin healthy: The best way to eliminate sun damage to your skin is to stay out of the sun all together, but that may be unrealistic. If you're spending time in the sun, make sure you're applying sunscreen.
Keep your mind sharp: Reading a good book or playing a game with friends will help you stay in tip top mental shape. Having a healthy mind is equally important as having a healthy body.
Sleep well: This may be one of our favorites, if you're not sleeping your body does not have the time to heal. Good sleep habits are important at any age and as you start to get older they become even more important.
All of the items on this checklist can be achieved even as you age in place, but they may take some coordination with your loved ones or care givers. If you're working with a home health care agency in Connecticut ask them how they can help you achieve maximum health and happiness as you continue to live out this next chapter of your life.