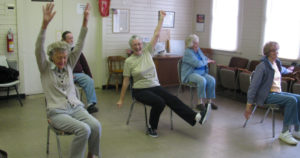 A focus on your health as you're aging in place is so critical. When we talk about health we are talking about both mental and physical health. There are few activities that are equal parts good for your mental and physical health. One of those activities that covers both mental and physical health included as a benefit is yoga.
Yoga is an incredibly brilliant type of exercise that works both your mind and your body at the same time. Deep breathing is a staple of this type of exercise which brings your inner self to peace and allows your body to relax. While there is an inner peace that comes with yoga, there is also a benefit to your muscles and joints which benefit from the flexibility and strength it takes to perform some of the positions.
The best part of this type of exercise is that there is a level for everyone. If you are an experienced yogi who can do down dog in your sleep, well you'll be off the races. If you're someone who cannot stand for long periods of time, there is chair yoga which affords you most of the same benefits of yoga without the difficult of mobility that you might be experiencing.
If you're new to yoga there's not much to know except that you will need a nice quiet spot to practice and a comfortable spot on the floor (or if you'll be participating in chair yoga a firm chair that will be able to hold your body weight.) You can subscribe to virtual yoga instructors, attend a class (if you're able to get out of the house) or practice on your own.
Yoga is one of the most flexible forms of exercise available to you because you really can do it anywhere, anytime, and with little to no equipment. Spend the rest of your summer engaging in this incredibly productive and beneficial exercise and you'll be doing sun pose before you know it.