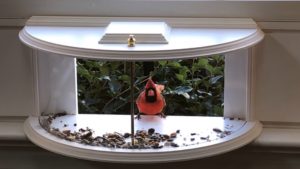 Spring has sprung and it may soon be time to swing open your windows and enjoy some fresh air into your home again for the first time in many months.  As sunlight and fresh air stream in, there may be one thing you are missing if you are a nature lover who can't get outside, animal companionship.
If you are a nature lover who is aging in place and can't easily make it outside it may be difficult for you to experience a truly natural environment given that one of the things that makes nature so inviting is the sounds of animals scurrying about it flitting by to say hello.  While having the windows open may help with bringing nature in, nothing can compare with sitting among nature.
But, here's an idea.
Bird feeders come in all shapes and sizes and can now even be attached to your window on the side of your home.  Installing a bird feeder right outside the window that your loved one is closest to can help bring that added bit of nature into their home and make the fact that they aren't mobile enough to get outside feel a little less daunting.  This may add an extra step to your caregiving duties (adding feed into the bird feeder periodically) but the additional connection that your loved one will feel with nature will be worth the added workload.
Having pets in a home where your loved one is aging in place may present some challenges, but making it possible for animals to come and go as they please may fulfill that need for companionship that is often filled by a cat or dog without having to put a burden of care on your loved one.  Give this a try and let us know how it works out.