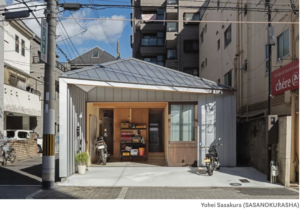 We spend a lot of time talking about helping those loved ones that are already aging in place, but what about you, or a parent who is younger and not quite ready to age in place, what does planning for that scenario look like?
One couple in Japan made a decision that they would invest in a redesign of their home to help ensure that they would be able to live happily for years to come without having to worry about making adjustments to their home as they grew older.  Doing this kind of planning will benefit them for years to come as they will have a comfortable space to live in now and grow old in for the future.  It has also allowed them to be able to invite their Mother to stay with them now, realizing that her needs will start to shift in the nearer future.
Here are some things to keep in mind if you are designing a new space in which you will age with your companion.
Lose the stairs.  One floor living can be done in a stylish and architecturally interesting way.  You can live on one floor in your youth and it will be beneficial to you as you age in place.
Think about an open floor plan.  A floor plan without many built in obstacles can make a lot of sense for you now and as new challenges arise, the home will be able to support your needs.
Pay special consideration to energy efficiency.  One thing that faces many people who are aging in place is a fixed income.  Thinking ahead now to fixtures and systems that will allow a home to be energy efficient, providing cost savings, will help in the long run.
If you're thinking ahead, you're ahead of the game.  Designing your living space for now, but also for the future is a smart investment of time and energy.  Aging in place will be more comfortable if you've taken the time to think through your housing options.