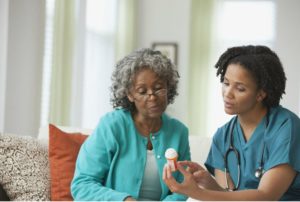 Here at Masters In Home Care we have three essential qualities we are looking for when we hire home health care aides. We are committed to making sure that each and every member of our professional staff has these qualities before they come out to your home to help you or your loved one. We believe that it is increasingly important to make sure that we stay with only aides who have these three qualities to guarantee you and your loved one the highest quality of care.
Experience: We will only hire those home health aides who bring a level of experience that is necessary to provide high quality of care. You will not find any of our home health aides learning on the job. The professional staff we have will all be skilled in the medicine that they are practicing and will have committed themselves to a life of service to others.
Caring: This is an undervalued skill with many home health care agencies in Connecticut, but it is one that we place a premium on. Our medical professionals understand that while medical care is their primary objective, equally important is being able to lend a caring and compassionate hand to the patients that they serve.
Knowledgeable: Our team of medical professionals reach back into their long careers of patient care for the highest level of knowledge and understanding of every medical situation. The experience that each and every medical professional that we send out to your home is unparalleled in the world of home health care in Connecticut.
If you've had experience with our knowledgable, caring, and experienced staff we would love to hear from you on how that experience was. If you have yet to share your home with these incredible professionals, we invite you to call us and speak with us about how we can help you or your loved one.