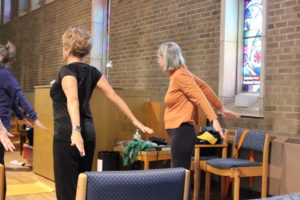 Whether you're aging in place or just need to be seen by one of our medical providers on a temporary basis, you'll want to make sure you're powering up your day with some movement. Depending on your situation one of these three exercises may do the trick.
A light walk: Going for a light walk, if you're able, is one of the best ways to keep your blood circulating and your heart pumping strong. A walk is the perfect exercise because you can power it up by carrying light weights or take it easy by moving one step at a time. Either way, this is a great way to power up your day
Chair Yoga: Stretching is one of the best ways to keep your body limber. Chair yoga, similarly to a light walk, can be done at all different levels of rigorousness so no matter what your individual situation you'll be able to participate and get the most out of it.
Light weight lifting:Investing in a set of 2 lbs. dumbbells can be a great way to get your body moving keep your muscles strong. Even just small amounts of resistance training can be the perfect way to stay healthy and active no matter your situation.

Before venturing into one of these exercises consult your medical provider to ensure that you are strong enough and healthy enough to do them.

If you're working with a home health care agency in Connecticut, we will be able to guide you in the exercises that will help make you strong and power through your day.