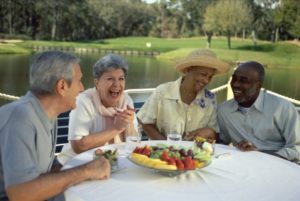 When you're considering your options as it relates to where you'll spend the rest of your life, you have a lot of choices. When making a decision you'll need to take into account factors like location, mobility in and out of the house, cost, proximity to family, size, and upkeep. All of these factors will play a large part in your decision about where to live.
The good news is that there are a wide variety of choices that will fulfill a lot of your wants and needs all in one place. Here are three options that might make sense for you as you consider where you will spend the coming years.
1.) Your current home: This is likely the most appealing to you as it is the home you chose and have already lived in. There will be no moving required (although some reconfiguration might be in order) and there will be no "getting used to it" for you to do. What often is the case is that people find their current home to be too much for them to handle when living alone. Your current home may also require you to make structural changes that just aren't worth it.
2.) An Over-65 Community: In many areas of the country these are the fastest growing types of developments. Here in Connecticut, these communities are a way for folks to have a home that is easy to maintain, is close to everything, and where neighbors become companions as you all age in place together. There are many benefits to this type of home, but there are also some limitations to what you can do to reconfigure your home on the inside and out which may seem too constraining to some.
3.) An in-law suite: If you're lucky enough to have a son or daughter who has spare room in their home, this would be a good option. It is likely the cheapest option and will allow you to maintain a close relationship with that member of your family. Who knows, you may even be able to spend more time with your grandkids. Like anything there are downsides to this option as well as you may feel constrained by living with your adult children.
Whatever you choose you will want to really spend some time thinking it through. Once you put down roots you likely won't want to move again, especially as you continue to age. Aging in place is a great option for those who do not want to live their later years in a nursing home setting.