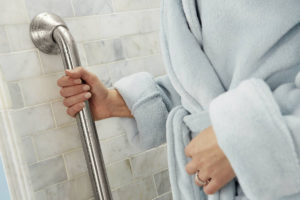 As you or loved one grows older and decides whether or not he/she wants to continue aging in place it is critical to make sure the home is a safe place. In the home, nearly 22 million Americans were injured in a fall with a high rate of injury for people 65 years of age or older. Without grab bars in the home the rate of injury increases. The question remains where should these grab bars be installed?
A logical assumption is that the bathroom is a critical place for grab bars to be installed. Grab bars can help you or loved one get up off the toilet without incident, stand in the shower without incident, and avoid any slips and falls on a wet bathroom floor. The bathroom however is not the only place where grab bars can help prevent injury. Here are three other places where grab bars should be installed to help support you or your loved one who is aging in place.
To and from the garage: If your home has a garage it can be a challenge for your loved one to get in and out of the car and into the house. Placing grab bars in the garage can help prevent slips.
In the kitchen: Trying to get around the kitchen can be a harrowing experience for someone who is not sure on their feet. Adding grab bars strategically around the house can help someone navigate the most used room in their house.
Where there is a set of short steps: Most large staircases have railings to help someone climb the stairs, but often an area where there is a step up or two may not have a railing. Adding a grab bar in between rooms where there may be a step up or down could mean the difference between a fall and not.
Currently in the United States only 19% of homes have some form of grab bars. If you or your loved one is, or is planning to, age in place, you may want to consider adding grab bars throughout the house. It may save you from a serious injury down the road.