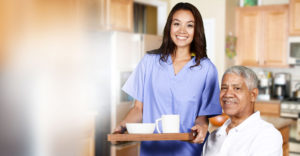 It shouldn't come as much of a surprise that those who are getting older have overwhelmingly committed to staying in their own home as they get older. The phenomenon known as aging in place is one that has been gaining mainstream acceptance over the last decade. The idea that as you age you can remain in the comfort of your own home with all the healthcare and lifestyle services you need is one that appeals to so much of the older population. It is important that for those who are planning on aging in place they have a home health care agency in CT that they are comfortable with.
The statistics on those planning on aging in place are staggering.
According to the AARP nearly 90% of all seniors wish to stay in their homes as they age.
This number does not drop drastically even when faced with the need for on-going health care, still 82% of the population desires to stay in their home as they age.
Why are so many seniors choosing the option of living in their own home as they age? For a large percentage of those who have decided that that's how they want to live out their final days the answer is simple, they want to live under their own rules as they age. Nearly 45% of all seniors who are determined to live in their own homes gave this reason for wanting to age in place.
If you or a loved one is considering the options for aging in place it is imperative that a lot of planning goes into the decision.