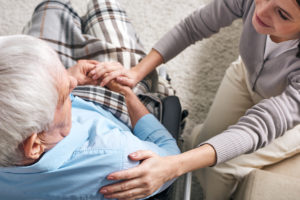 In the United States, only 3 out of every 10 people who are aging in place use paid caregivers.  The other 70% rely on friends or family to help provide the services that they need as they continue to live in their home while they age.  Most caregivers do this out of the goodness of their heart and out of love for the one who needs the care.  Caregiving is a wonderful way to show your loved one how much you appreciate them and their comfort as they age, but it undoubtedly can take a heavy toll on the caregiver as well.
If you are an unpaid caregiver, we salute you.  The work you do may feel like it goes unnoticed to some, but it is truly noticed by us.  We know the hardships that come with being a caregiver for a loved one.  It can take a physical and emotional toll on you.  As a home health care agency in Connecticut we honor and respect your willingness to provide comfort and practical services to your loved one.
It is not only important to recognize the work, but also to understand some of the statistics around this type of unpaid work in the United States.  We found these three statistics both stunning and instructive to how we think about caregivers;
Caregivers spend up to $13,000 on average each year out of their own pocket to provide the care their loved ones need.
Almost 24 hours PER WEEK are dedicated to caregiving on average and that number has significantly increased as a result of COVID-19.
If we were to pay each of the 53 million caregivers who do this work for no money, what they are owed we would pay them tens of thousands of dollars per year.
Very few acknowledge the fact that these caregivers are in fact the frontline workers for so many of our aging and ill population.
If you are a caregiver, we salute your service to your loved ones and the hard work and dedication you put in every single day to keep your loved one safe and happy as they age in place.